Japanese Music Box Antique Not for sale National Panacolor TV with Showa Retoro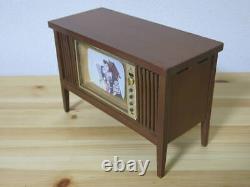 This is a used National Panacolor TV Jewelry Box with Music Box I don't know the details, but it was probably a display item or given out to TV buyers I think this is from the heyday of CRT TVs? Contents···Wooden jewelry box (with music box)?
Size···21.8cmcmx10cmx14.7cm Appearance····It is an old item, so there are some small scratches (please check with the photos). We provide valid Tracking Numbers for all orders. ·Exchabge possible within 30 days.