Antique Swiss Music Box by P. V. F has 6 INTERCHANGEABLE Cylinders playing 36 Airs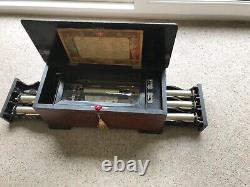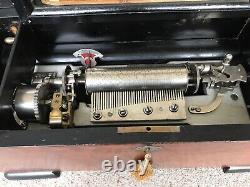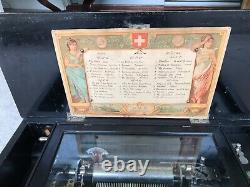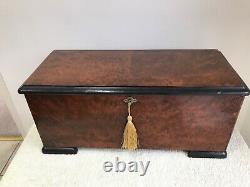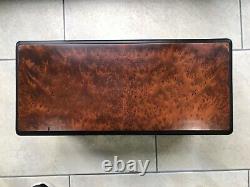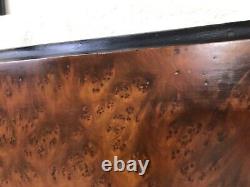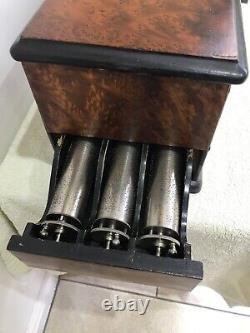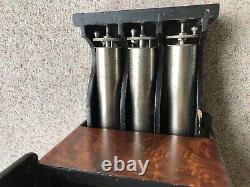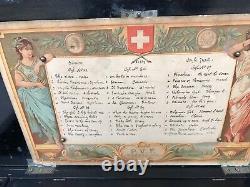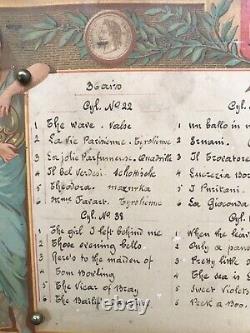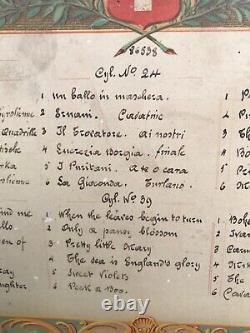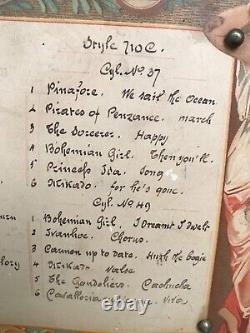 Made by the Swiss company Pailliard Vaucher Fils this is a fabulous piece of Victorian technology. Everything from Gilbert and Sullivan to dance tunes and popular songs. It is lovely and original and a sort of old fashioned I-player! There are 6 cylinders in total which are housed in two drawers under the playing mechanism.
They can be removed and interchanged at will. With each cylinder playing six airs there is a wide variety of music available.
The mechanism has been cleaned and serviced. It works well and has a lovely tone when playing.
The wooden case is also original and of high quality. It looks great and is veneered in a very exotic wood for the Victorian age. (amboyna, a sort of African walnut).
Length 51cms, height 23cms, width 23cms. Often when a music box is restored the finish is overdone. Despite its age it can be made to look freshly veneered and brand new.
That mistake has not been made with this box. There are a few old/extinct woodworm holes which have been filled with wax and disguised. These are slightly visible on some surfaces if you look really closely but do not detract from the overall appearance. This music box has been around for about 140 years and has been well cared for. It should look exactly as it does now.........
This is a collect only item.