Antiq Swiss Pre-reuge Thorens Thuya Wood Veneer Music Box #2 Mozart Tunes Video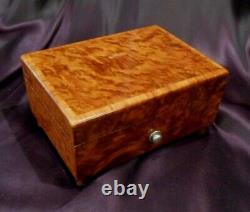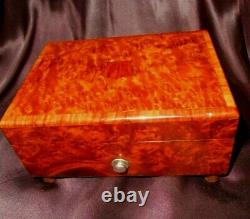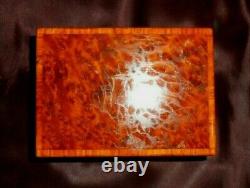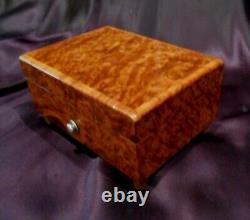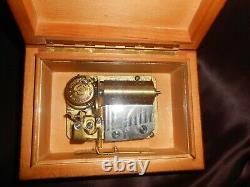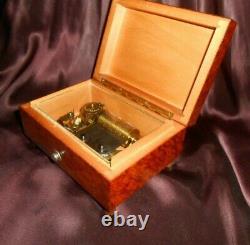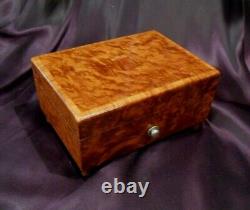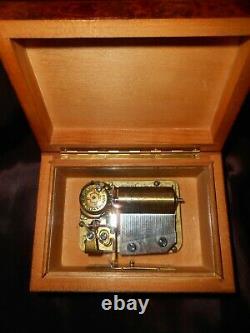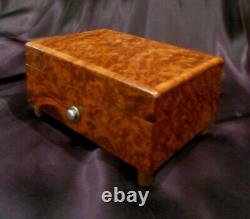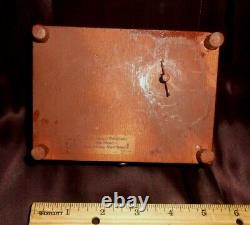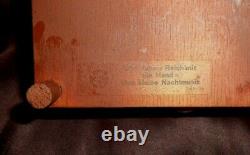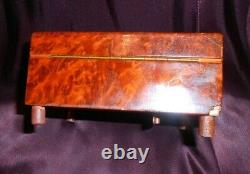 This is one outstandingly beautiful wood veneer jewelry music box, since it is made of Thuya (pronounced two-ya) wood veneer from Morocco, Africa, and is darker & incredibly, brilliantly shiny--almost moist in appearance. The stunning appearance of the Thuya wood is unmistakeable, and although the wood is unmarked, the absence of a Thuya wood label is not at all unusual because this antique Pre-Reuge Cuendet music box was made in the 1940's & possibly 1930's. Just look over all the photos to judge for yourself its awesome, superb wood veneer! Measuring 5" L x 4" W x 2 3/4 Tall, this is a gorgeous burled wood veneer music box, that is also a Combination music box, meaning that it can play 2 ways.
It can play either 1 song at a time, or it can play continuously, until it winds down or you turn it off--this is all done via the silver knob button in the front of the box, and you turn it on by pushing the knob to the right, & it turns off if you push the knob back to the left. If you want to play 1 song at a time, then you push the knob to the left after it has started playing that song. If it is to play continuously, then you keep the knob pushed to the right where it will play continuously. What is also great about a Combination music box like this is that you can play its tunes with the lid opened--where you can see the mechanics of the music box mechanism as it plays--or you can play the songs with the lid closed.
The 2 tunes are great classical songs, both composed by Wolfgang Amadeus Mozart: 1 Don Juan "Reich Mir die Hand" which means "I Kiss Your Hand"; & 2 "Eine Kleine Nachmusic" which means A Little Night Music. Both of these songs are flawlessly played by this Pre-Reuge Cuendet music box mechanism, and I have lubricated or oiled this mechanism to keep it playing perfectly for years to come, for this is an heirloom-quality music box that should be used, enjoyed, & cherished by generations to come, as the musical treasure that it is. This beautiful wood music box still has its original song title Label on the bottom of the box. Any gorgeous antique music box may have a few dings or marks due to its age & wear--there are only a very few flaws in this music box, if you even want to call them a flaw: 1 the top of the front wood liner holding the cover-glass over the mechanism has its top edge of wood broken off, so that the glass liner may slide off more easily if not careful; & 2 there is a very small "nick" in the veneer at the back of the box just above the right rear leg--see Photo #12. This is also of no harm, because you could darken it if you want to, or you can leave it alone, because it's at the back of the box anyway. There is also a small spot of clear glaze missed above the wood shield in the top lid, but you cannot even see it or photograph it unless the light catches it just right, but I mention it only for truthfulness' sake. These little flaws are easily accepted as part of the "charm" of owning a genuine antique, that makes it a one-of-a-kind treasure. Look over all the photos as part of the description--enlarge, enhance, magnify them--to judge for yourself the quality & the beauty of this fabulous-sounding music box--if this musical treasure appeals to you, don't wait too long to decide, or it may be gone. Video will open in a new window. Basically, if you're not happy, then I'm not happy.
The item "ANTIQ SWISS PRE-REUGE THORENS THUYA WOOD VENEER MUSIC BOX #2 MOZART TUNES VIDEO" is in sale since Monday, May 3, 2021. This item is in the category "Collectibles\Decorative Collectibles\Music Boxes\1900-1940". The seller is "keystone_antiques" and is located in Cleveland, Oklahoma. This item can be shipped worldwide.
Handmade: Yes
Modified Item: No
Country/Region of Manufacture: Switzerland
Brand: Pre-Reuge Cuendet
Time Period Manufactured: 1900-1940